About Us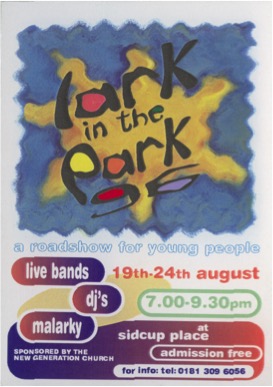 Lark in the Park began in 1996, following on from the success of 'Design for Life', by New Generation Church. The first event was one small 'DIY' tent over one weekend, with evening gatherings and a kids club.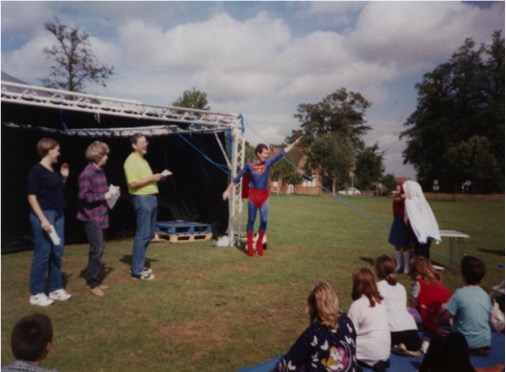 In 1999, Lark in the Park grew to be in one large marquee for a long weekend of kid's clubs and church gatherings every night.
By the year 2000, it had grown to be a week-long event with a large marquee, kid's clubs, fun days, evening events and an After Hours venue.
In 2003, our site grew and became 2 weeks of activities, starting to see hundreds of kids, community action teams and over 100 volunteers.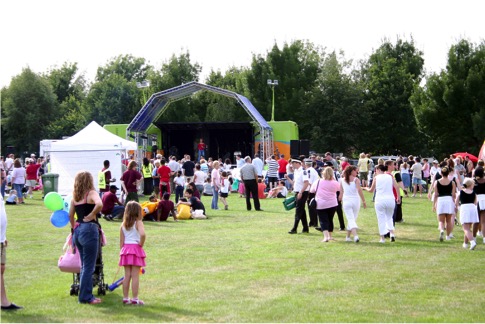 In 2004, we were hosts for the 'Sidcup Festival' on our first day. A huge event that was held for the community: run by other event organisers and High Street traders. Ending with a fireworks show!
Back in 2005, our fundraising target was £27,000: Which was huge at the time and a big target! This has grown over the years as the event has grown, but every year the bills have been paid. One year some of the team even braved the '3 Peaks Challenge' in the name of fundraising!
In 2006 we grew to having 300 volunteers, plus 2900 children between the ages of 0-11yrs.
From being just one venue Lark in the Park has grown to have youth events, action teams, fun days, a craft zone, over 60s venue, an open air stage and lots more.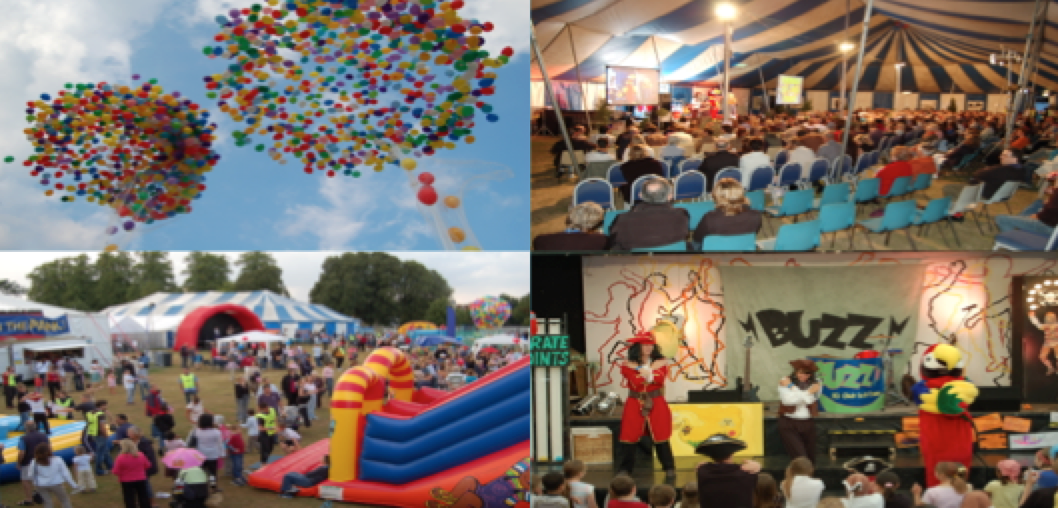 Over the years more churches in Sidcup have become involved and supportive as well as many key community groups and organisations. In fact volunteers from 39 different churches were rolling up their sleeves for LITP!
In 2007 we launched out into creating the team 'Park Pastors'. This Lark in the Park team then launched into becoming a team who are out every Friday night around Sidcup Place and the High Street. They give away free drinks, provide some fun and games on the park and most importantly have time to talk to people.
Sparkles (our parent and toddler zone for 0-5s) started out in one small tent with a small outdoor area, before PJ & Lizzie arrived on the scene with a full-on outdoor show! Now it is the biggest venue! It offers soft play, shows, music sessions, indoor crafts, dressing up zone and lots and lots of play opportunities and a chance for parents to chat!
Free60 (our Youth Tent) started out with a small tent and then the addition of the youth bus, football cage and now more marquees…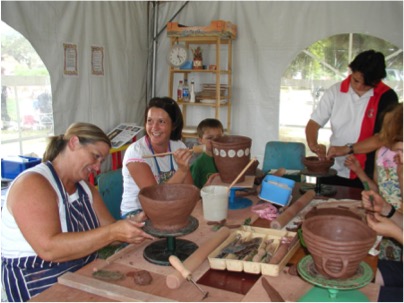 The amazing space that is now Inspiration started as a gazebo in the middle of the park as the Ceramic Cafe, and then it moved into a larger gazebo, before becoming a large marquee and catering for hundreds people with very creative ideas and projects.
Evenings at Lark in the Park changed from purely being church gatherings to being entertaining times for friends and family to come together and to enjoy community.
Over the years we have invested in many local community projects off site, including:
Renovating the staff room in Bexleyheath Cineworld
Car washing
Helping at the Rob Knox Film Festival
Clearing local allotments
Community Action Decorating
Decorating and cleaning in local schools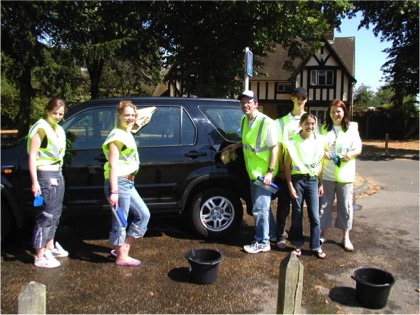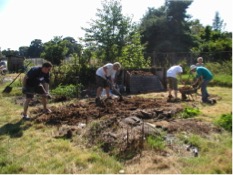 Over the years, we have received several awards:
Natwest Community Force Winner 2011
London Borough of Bexley Civic Outstanding Achievement Award 2008
Recycling Winner Bexley Council Environmental Award 2008
Premier Radio Regional Finalist award for Community Building 2019
We have always had links overseas with many teams. The first was from the USA, now we have teams coming from many nations: Denmark, Germany, Hong Kong, Czech Republic, Malaysia, Sweden and many more locations.
We have just over 350 volunteers, who receive a free lunch during the day and the opportunity for training and volunteer only sessions.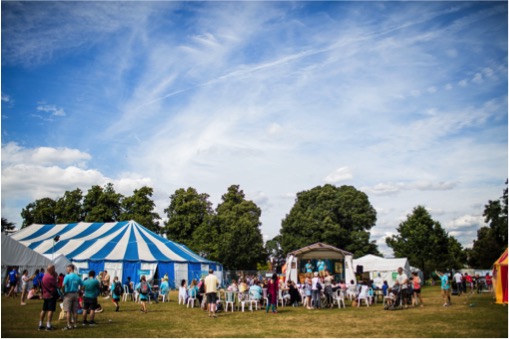 The combination of the dedication of the team leaders and volunteers to provide the event, along with people loving being there has meant the event has grown and grown.
We have now seen those who were babies/children at Lark in the Park grow to be teenagers/young adults, some now even volunteering and some bringing their own children along!
The whole focus and vision of Lark in the Park from Day One has been to provide a gathering point for our community, as a free gift. We are thankful to still be providing this since we began in 1996!
Check out these videos to see what happens:
So come and find us – there really is something for everyone!